Spin Digital Releases High-Performance File Transcoder with Support for VVC/H.266 Video and MPEG-H Audio
Berlin, July 11 2023 – Spin Digital, the provider of high-performance video codecs, today launched a new version of its ultra-optimized file transcoder (Spin Enc File v3.0) with the incorporation of the VVC/H.266 video and MPEG-H Audio codecs.
Both VVC/H.266 and MPEG-H Audio are being chosen by broadcasters and standardization organizations as the basis for next-generation broadcasting and streaming systems to deliver new and more immersive media experiences.
In addition to Spin Enc Live,  the real-time VVC encoder for live UHD (4K, 8K) applications, launched in February 2023, Spin Digital is adding VVC and MPEG-H audio support to its ultra-optimized file transcoder. Professional users requiring file-based workflows in broadcast, OTT, VoD, post-production, and immersive media can take advantage of the compression and quality benefits of VVC at the remarkably high transcoding speeds for 4K, 8K and beyond of Spin Digital's own VVC implementation.
The Main Features of Spin Enc File v3.0
Some of the key features of the new HEVC and VVC transcoder version are listed below:
State-of-the art software HEVC and VVC software encoders: provide high quality at low bitrate combined with high encoding speed using a high-performance CPU implementation.
Next Generation Audio (NGA): enables file encoding workflows with personalized immersive sound through full support of MPEG-H.
Perceptually Optimized Encoding (POE): The encoder includes a quality optimization mode that relies on a novel in-house Human Visual System (HVS) model to enhance the perceived quality of challenging video when compressed at distribution bitrates.
High-precision pre-processing filters: The transcoding framework also includes a versatile high-performance and high-precision video processing library for on-the-fly conversion to different formats before encoding.
Optimized for VR video: The file transcoding workflow includes ultra-fast conversion between common VR/360-degree video projection formats, and provides highly efficient 180-/360-degree video coding up to 16K resolution with 3D audio.
Transcoding Plugins: FFmpeg and DaVinci Resolve Studio
Spin Enc File v3.0 is available in two forms for facilitating its integration into offline encoding and streaming workflows:
FFmpeg: The HEVC and VVC encoders have been integrated, as plugins, in  the popular FFmpeg framework for simplifying its use in file transcoding workflows. The plugin also includes Spin Digital's optimized HEVC decoder and the high-precision pre-processing filters ultra-optimized for 8K HEVC-to-HEVC/VVC transcoding workflows. For personalized and immersive audio coding, the MPEG-H  audio encoder is also available.
DaVinci Resolve Studio: Spin Digital has developed an HEVC encoding plugin compatible with DaVinci Resolve Studio, enabling high-speed and high-quality exports to mezzanine, contribution, and distribution formats.
Higher Compression and Quality, and Higher Transcoding Speed
Spin Enc File results in higher transcoding speed at higher quality: the encoder produces similar quality to other software solutions at significantly higher transcoding speeds, and higher quality than hardware-accelerated solutions at higher transcoding speeds. Transcoding results obtained on a 64-core workstation demonstrate the quality and performance of Spin Digital's transcoder.
Higher performance than other HEVC software encoders: Spin Digital's HEVC encoder can process up to 30 frames per second (FPS) of 8K video, that is, an encoding speed 7 times faster than x265 with comparable compression and quality levels.
Higher performance than other VVC software encoders: Spin Digital' VVC encoder runs at 20 FPS for 8K video, faster than other VVC encoders, while still providing considerable bitrate gains compared to HEVC.
Significantly higher compression than hardware-accelerated HEVC encoders: Compared to GPU-based hardware encoders, the HEVC encoder achieves a 38% compression savings for the same quality while running at a higher transcoding speed.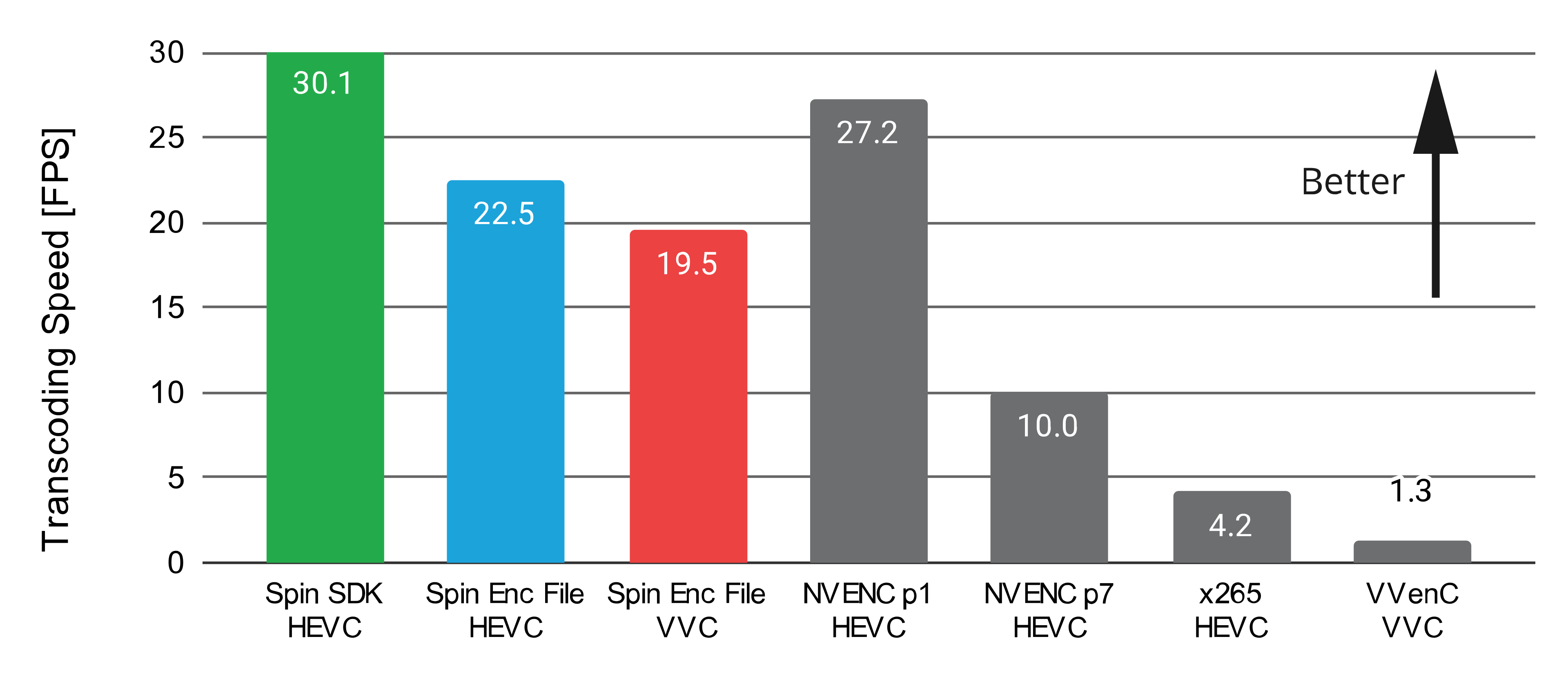 More Information and Availability
Spin Enc File 3.0 is now available for licensing. More information can be found on the product website:
https://spin-digital.com/products/spin_enc/
A free demo version or a quote can be requested online.
https://spin-digital.com/demo-or-quote/
About Spin Digital
Spin Digital Video Technologies GmbH (Spin Digital) develops high-performance video codecs for the next generation of ultra-high-quality video applications. Spin Digital software solutions enable media applications that require the latest image and video processing enhancements including very high resolution (4K, 8K, and 16K), high dynamic range (HDR), high frame rate (HFR), wide color gamut, and 360° video and virtual reality. Spin Digital is based in Berlin, and operates in an international B2B environment, collaborating with customers and partners around the world and across market segments.
For more information, visit: https://spin-digital.com/
Trademarks
Spin Digital and Spin Enc are trademarks of Spin Digital Video Technologies GmbH.
Other trademarks remain the property of their owners and are used here for descriptive purposes