Spin Digital presents an end-to-end HDR Solution for 4K and 8K HEVC at IBC 2016
Spin Digital Video Technologies GmbH will demonstrate at IBC 2016 an end-to-end HDR HEVC/H.265 software solution for ultra-high definition video (4K, 8K, and beyond).
Berlin, September 1, 2016 — A demonstration will be presented from September 9-13 at the Amsterdam RAI at Hall 1 Booth 1.F11.
Spin Digital complete solution includes an HEVC encoder, HEVC decoder, custom video renderer, and media player. Using the HDR-enabled video codec it is possible to encode, decode, and display high quality HDR video using a software solution running on PC platforms.
The main features of the entire solution are:
UHD video player: 4K and 8K video playback on PC platforms
High performance HEVC/H.265 decoding
Custom high performance video rendering with DirectX12
High quality and high compression HEVC/H.265 encoding
Support for High Dynamic Range
Support for Wide Color Gamut
Professional video formats: 4:2:2, 4:4:4, RGB, up to 12-bit
22.2 channels audio (and more) using a custom multitrack solution
Spin Digital HEVC Media Player
Spin Digital Media Player includes a high performance HEVC/H.265 decoder and a custom DirectX12 video renderer that allows video playback at 4K, 8K and even higher resolutions on standard PC platforms.
High Dynamic Range is supported according to the SMPTE ST 2084 and SMPTE ST 2086 standards. Wide Color Gamut is supported according to the ITU-T BT.2020 recommendation.
The media player also supports multiple video formats (4:2:0, 4:2:2, 4:4:4) and up to 12-bit, covering a wide range of professional, contribution, and distribution applications.
A special audio format developed by Spin Digital creates a cost-effective solution for applications requiring more than 8 audio channels such as 3D audio with 22.2 channels.
Demonstration: 4K HDR and 8Kp60 player
The demonstration at IBC 2016 includes a 4K media player with HDR support using a 58-inch UHD TV. 4K HEVC UHD content with HDR will be played using Spin Digital Media Player.
In addition, an 8K media player demo will be presented supporting 8K HEVC video at 60 fps, with 4:4:4 and 10-bit video. 8K video content will be presented on four 58-inch 4K/UHD TVs in a 2×2 setup, resulting in an 8K UHD surface of almost 120 inches.
The media player will also feature the new multitrack audio solution.
HEVC encoder
The content presented in the demonstrations is encoded using Spin Digital's HEVC/H.265 encoder. The encoder features very high quality and high compression efficiency. It also supports professional formats (4:2:2, 4:4:4, up to 12 bit), HDR medatada, WGC, and perceptual optimizations for higher subjective video quality, and advanced rate control algorithms.
Applications and SDKs
Spin Digital HEVC/H.265 media player, decoder, and encoder are available as complete applications as well as SDKs ready to be integrated into customer's applications.
Visit us: Booth 1.F11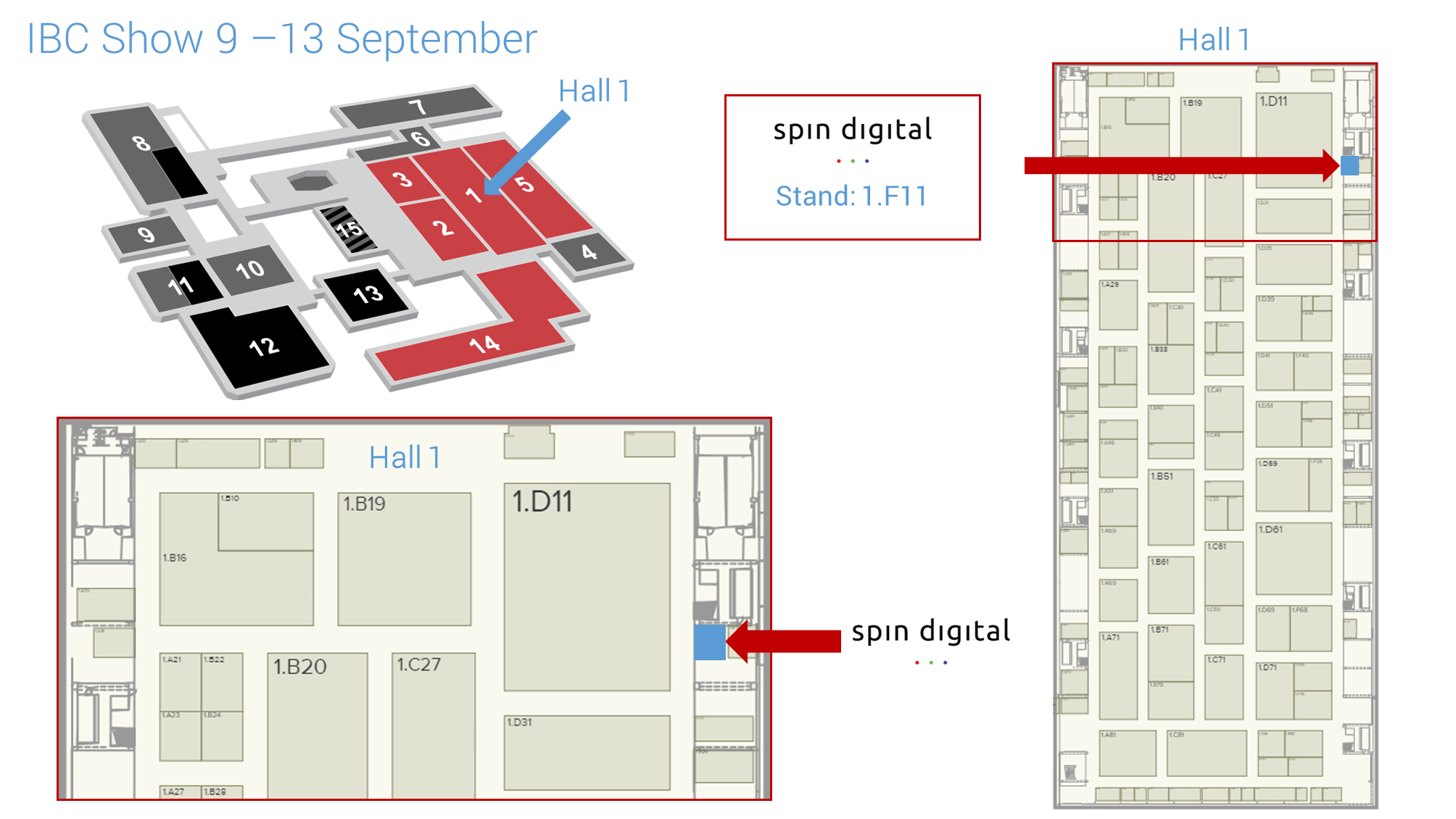 Contact
Mauricio Alvarez Mesa, CEO – mauricio(at)spin-digital.com – www.spin-digital.com
Contact and sales in Japan: Taketoshi Kariya, Sales Manager – tkariya(at)tjc.ne.jp – www.tjc.ne.jp/en
Funding
This activity has received funding from the European Union's Horizon 2020 research and innovation programme under grant agreement No 688759 (lpgpu.org).