Spin Digital to Demonstrate State-of-the-art Video Codecs in Cannes
Spin Digital will be part of a demonstration of a HEVC/H.265 codec for VoD solutions at the NEXT Pavilion of the Cannes Film Festival.
Berlin, Paris, Copenhagen, May 5, 2016 — Spin Digital will be part of a Panel at the Cannes Film Festival 2016 presenting a demonstration of an end-to-end HEVC-based solution for VoD applications for the Film industry. The panel and demonstration will take place on May 17th at 4:00 pm at the Palais I of the Palais des Festivals et des Congrès de Cannes.
As more and more films and TV series are being distributed over (and even created exclusively for) the Internet, and as the quality is increasing from HD to UHD, the impact of video compression on the final user experience is becoming more significant.
After the transition from 35mm film to digital formats, almost all content processes in the film industry from production, distribution, and exhibition are based in digital formats. Projections in cinemas use a very high quality image format that preserves, as much as possible, the creator's intention. This format, however, is not suitable for distribution over the Internet due to the huge amount of data that it generates. High compression video codecs are used for online video, sometimes with a very negative impact on the final quality. H.265 has demonstrated significant quality improvements compared to existing codecs. How to implement it adequately for VoD applications in the film industry has been the scope of the Film265 project.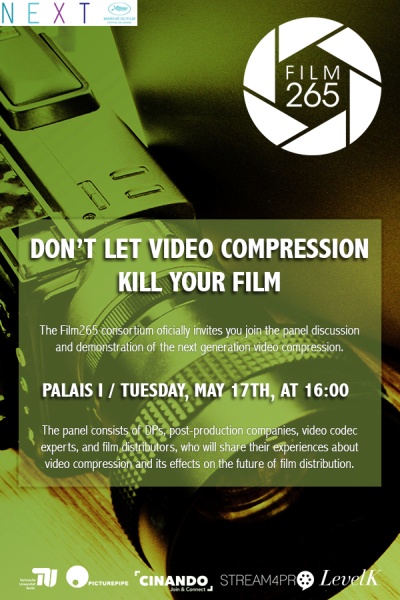 Panel / Demonstration
Film265 will present a H.265 codec optimized for VoD applications at the NEXT pavilion at the Cannes Film Festival. The presentation consists of a panel discussion and a demonstration screening exhibiting the superior coding performance improvements. In particular, a comparison will be performed between the current industry standard H.264/AVC (used is most current VoD services), and the new generation codec HEVC/H.265, which is specially designed for HD and UHD content.
In the panel DPs, post-production companies, video codec experts, and film distributors will share their experiences about video compression and its effects on the final user experience.
Screening: May 17th: 4.p.m, Palais I (Palais des Festivals et des Congrès de Cannes)
Speakers
Patrice Carré (Moderator): Film director, producer, director of photography.
Frantz Delbecque: Director of R&D and New Technologies at Eclair Group (www.eclairgroup.com) a French leading post production house and film laboratory.
Mauricio Alvarez-Mesa: CEO of Spin Digital, a German company specialized in video codecs for ultra-high quality applications, and Senior Researcher at the Technical University of Berlin.
Pascal Lebegue: Director of Photography
Film265 Partners
Film265 is a consortium consisting of a number of European partners from the video coding field and the film industry who delivers a comprehensive approach to support European small and medium VoD services with the most innovative video codec technology. It aims at providing them with the technological edge needed to compete in the international market of film distribution on the Internet.
Techniche Universität Berlin (www.aes.tu-berlin.de), and its spin-off Spin Digital (www.spin-digital.com) have extensive experience on high performance, high quality video codecs.
Reelport (www.reelport.com) is a VoD provider for film-related projects that develops the PicturePipe video delivery solution.
Le Marché du Film – Festival de Cannes handles Cinando (www.cinando.com), a leading B2B solution for the film industry.
LevelK (www.levelk.dk) is an International sales and distribution company using VoD technologies via Stream4pro (www.stream4pro.com)
Film265 Project Info
Next Pavillon in Cannes
Mauricio Alvarez Mesa
mauricio@spin-digital.com
Press Contact
Niklas Teng
LevelK, Copenhagen
niklas@levelk.dk
EU-Financed
The FILM265 project has received funding from the European Union's Horizon 2020 Research and Innovation Programme under grant agreement No 645500.