Spin Digital Releases a New Version of Media Codec SDK Enabling Real-time 8Kp60 VVC
Berlin, August 8 2023 – Spin Digital, the provider of high performance video codecs, announced the release of a new version of its Media Codec SDK (Spin SDK v6.1) with quality and performance optimizations for the HEVC and VVC encoders, as well as other features that increase the SDK functionality for a wider range of video coding applications.
The optimized HEVC and VVC encoders included in the new SDK offer higher levels of quality and compression for a wide variety of content without compromising encoding speed. In addition, the VVC/H.266 encoder has been optimized to enable 8Kp60 10-bit HDR compression in real-time.
More Versatile Encoding
The enriched HEVC and VVC encoders e incorporate the following features and coding tools:
Real-time temporal filtering: The HEVC and VVC encoders include a real-time temporal filter that aims to increase visual quality for content with camera noise.
Screen Content Coding (SCC): VVC includes specific tools for better compression of SCC content, such as remote desktop, gaming, and Computer-generated Imagery (CGI). Support for SCC has been added and optimized for UHD live operation.
These two features together make the encoders, especially VVC, more versatile as they achieve more efficient compression for a wider range of content. The overall per-content bitrate savings are shown in the figure below for VVC, indicating that the implemented tools are especially effective for desktop and 8K content.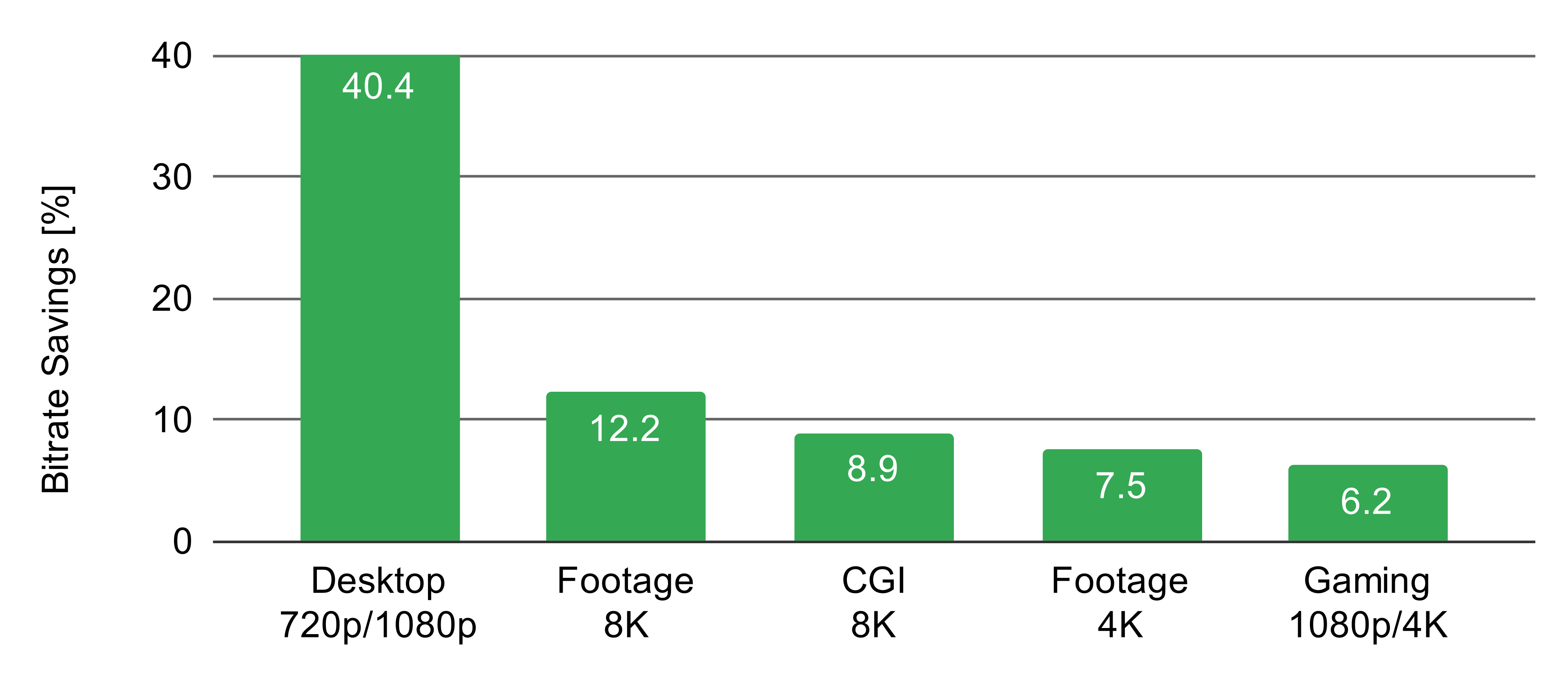 Real-time 8Kp60 VVC Encoding
The encoder has been optimized to  make efficient use of the latest generation of CPU architectures. This entails effectively using  wide SIMD instructions (e.g. AVX-512) and many cores (e.g., more than 100 cores or 200 threads) processors. But using more cores should not increase the latency of the encoder. The target encoding latency of 1 to 3 seconds is being maintained even when more computing resources are used.
The encoder has been optimized with an advanced multithreading  architecture that supports multiple levels of parallelism, allowing it to utilize as many cores as possible in an efficient way while keeping the encoding latency under a few seconds.
As a result, the encoder can process 8K 10-bit HDR VVC content at 60 fps in real-time using a recent-generation CPU architecture.
More details to be announced later and presented at the IBC 2023 Show.
More Application Use Cases
The new SDK release also includes other features that increase the encoding functionality for live and offline applications:
Perceptual rate control: Two new perception-aware rate control methods have been included in the video encoders. These algorithms rely on a novel model of the Human Visual System (HVS) to keep the perceived quality constant without exceeding a maximum bitrate cap. One method is based on constant quantization, which is recommended for offline VoD/OTT streaming, another on Variable Bitrate (VBR) control, which can be used for live streaming.
HDMI capture: In addition to 4K and 8K SDI capture, the SDK supports video and audio acquisition via HDMI interface. This feature allows to extend the functionality of the SDK for UHD live encoders and applications.
Availability and More Information
Spin SDK v6.1 is now available for licensing. A free demo version or a quote can be requested online.
https://spin-digital.com/demo-or-quote/
More information about Spin SDK
https://spin-digital.com/products/spin_sdk/
Contact information
Visit our website: https://spin-digital.com/contact/ or send us an email: info@spin-digital.com
About Spin Digital
Spin Digital Video Technologies GmbH (Spin Digital) develops high-performance video codecs for the next generation of ultra-high-quality video applications. Spin Digital software solutions enable media applications that require the latest image and video processing enhancements including very high resolution (4K, 8K, and 16K), high dynamic range (HDR), high frame rate (HFR), wide color gamut, and 360° video and virtual reality. Spin Digital is based in Berlin, and operates in an international B2B environment, collaborating with customers and partners around the world and across market segments.
For more information, visit: https://spin-digital.com/
Trademarks
Spin Digital and Spin SDK are trademarks of Spin Digital Video Technologies GmbH.
Other trademarks remain the property of their owners and are used here for descriptive purposes.