Spin Digital Debuts 8K/16K Video Powered by Intel® Xeon® Scalable Processors
Spin Digital Video Technologies GmbH delivers advanced software media player with support for 8K and 16K video that runs on Intel-based workstations
Las Vegas-April 8, 2018 10 AM PST – – Specialized in UltraHDvideo 4K/8K codecs, media player and media applications, Spin Digital has unveiled its latest 16K media player based on Intel® Xeon® Scalable processors at NAB 2018. Held in Las Vegas, NAB is the ultimate event for the media, entertainment and technology industry, showcasing ground-breaking innovation and powerful solutions for professionals looking to create, manage, deliver and monetize content on any platform.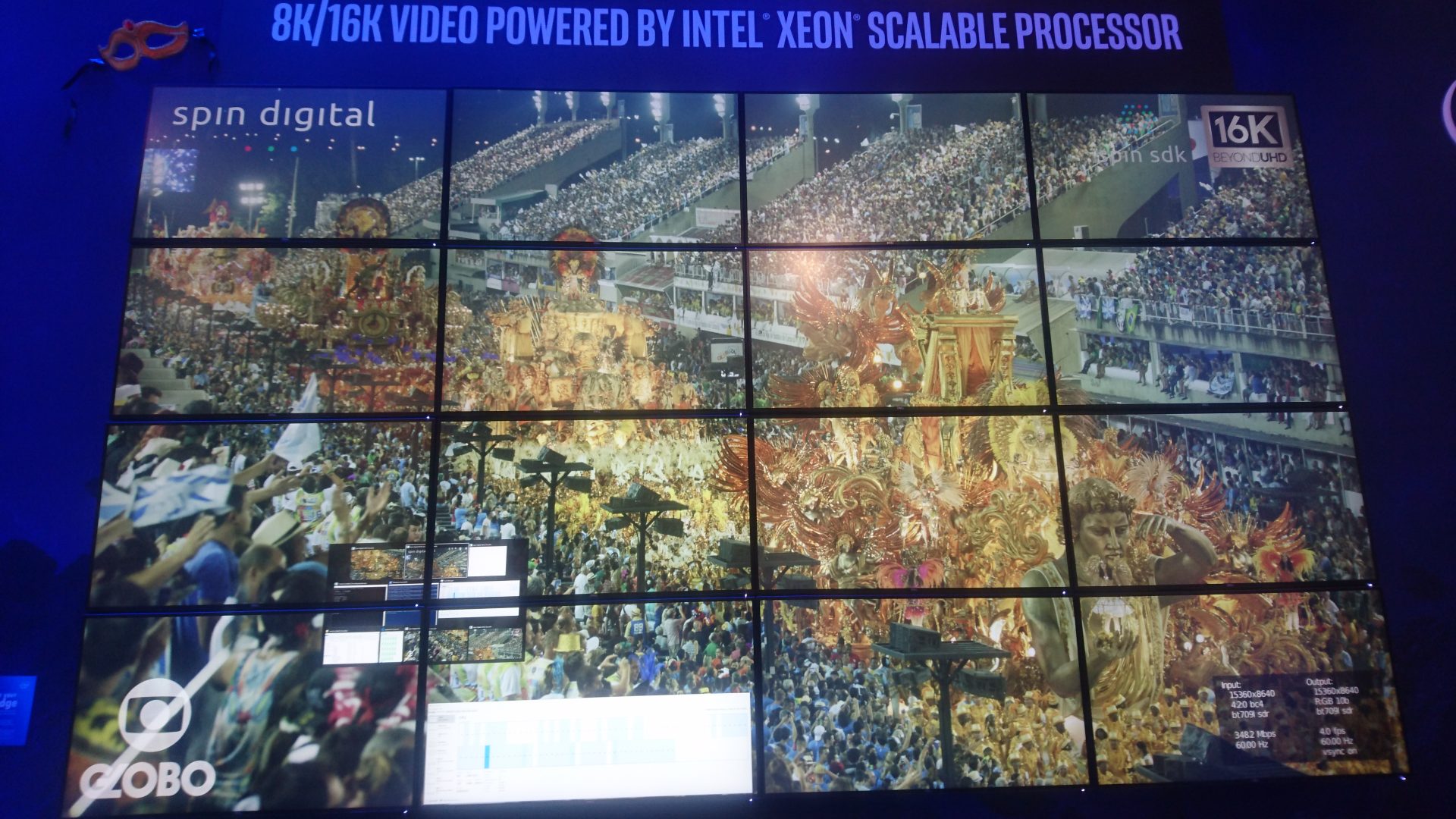 Spin Digital collaborated with Intel to develop one of the most advanced 16K video players capable of processing ultra-high resolution content including 8K and 16K using Intel Xeon Scalable processors. The core of the video player is an ultra-optimized HEVC/H.265 video decoder.
"Spin Digital's HEVC decoder has been extensively optimized for Intel Xeon Scalable processors in order to achieve an extreme level of performance. Optimizations include advanced multithreading, SIMD processing using Intel® Advanced Vector Extensions (Intel® AVX-512), and memory optimizations using compact pixel formats," said Mauricio Alvarez-Mesa, CEO of Spin Digital.
HEVC/H.265 codec
A critical component for making 8K and 16K a reality is the video codec. The HEVC/H.265 video codec standard can provide the required compression and quality level for ultra-high resolution video. The implementation must achieve the highest compression and quality levels, and at the same time must be able to process 8K and 16K data rates in real-time for video playback.
Spin Digital Software Video Player optimized for Intel Xeon Scalable CPUs
Spin Digital has developed an ultra-optimized HEVC/H.265 encoder and decoder implementation. The decoder is able to process 16Kp60 HEVC video in real-time using a CPU-only software system.
"Intel is committed to delivering immersive experiences that offer significant image quality enhancements to virtual reality (VR) and visual content experiences," said Lynn Comp, Vice President of the Data Center Group, and General Manager of the Visual Cloud Division at Intel Corporation. "Spin Digital's new offering demonstrates that it is now possible to decode and playback 16Kp60 video content using a single Intel Xeon Scalable processor-based workstation, enabling completely new types of media applications for very large-screen displays and a new generation of VR content."
Spin Digital HEVC solution uses the CPU for the entire decoding process. 16K video player results show that processing very high-resolution media is possible with software optimized for Intel Xeon Scalable processors.
Check out Spin Digital's new 16K media player demonstration during NAB, being held at the Las Vegas Convention Center, at Intel's booth located at South Upper Hall, Booth SU3110 from April 9-12, 2018.
About Spin Digital Video Technologies GmbH: spin-digital.com
Spin Digital develops high-performance video codecs for the next generation of high-quality video applications. The company is specialized in highly efficient software implementations of the HEVC/H.265 video coding standard and its extensions. Spin Digital codecs enable ultra-high quality video applications such as 8K and 4K with commodity computing hardware. Target applications include UHD-TV, immersive video projection, video walls and virtual reality devices.
Spin Digital offers:
An 8K HEVC/H.265 decoder. This decoder is able to process 8K video in real-time using a single workstation. It fully supports HEVC/H.265 version 2 standard (also known as the Range Extensions), enabling not only low bitrate 8K video, but at the same time cinema-grade colour fidelity.
HEVC/H.265 encoder that is able to produce very high quality and, at the same time, high compression ratios, especially tailored for 8K and 4K resolutions.
Our HEVC/H.265 codecs are ready for the next generation of high quality video systems, providing support for High Dynamic Range (HDR), High Frame Rates (HFR), and Wide Colour Gamuts.
Note: Workstation system configuration for 16K
CPU (for video decode): Intel® Xeon® Platinum 8168 processor, 2×24 cores, 96 threads, 2.7 GHz. Memory: 192GB (12x16GB), DDR4 2666 MHz. GPU (for rendering to display): 4x Nvidia Quadro M4000. OS: Windows 10, 64-bit. Compiler: ICC (Intel XE, v2018 update 1). Video playback software: Spin Digital HEVC SDK (Spin SDK, April 2018)