Spin Digital 8K Media Player Demonstrated at GTC Japan 2016
ELSA is presenting a demonstration of 8K HEVC media playback using Spin Digital Media Player at the Nvidia GPU Technology Conference (GTC) Japan.
Tokyo, October 5, 2016
Demonstration: 8Kp60 HEVC Media Player
The demonstration consists of Spin Digital 8K HEVC Media Player running on a PC (with CPU HEVC decoding and GPU video rendering). The PC is connected to an impressive 55-inch prototype 8K monitor from Panasonic Liquid Crystal Display. The new monitor supports 8K resolution at 60 fps, 10-bit video, and Wide Color Gamut (using BT.2020).
8K content has been provided by NHK Technologies, and has been encoded with Spin Digital HEVC Encoder with different video formats including 4:2:0, 4:2:2, and 4:4:4, and 10- and 12-bit video.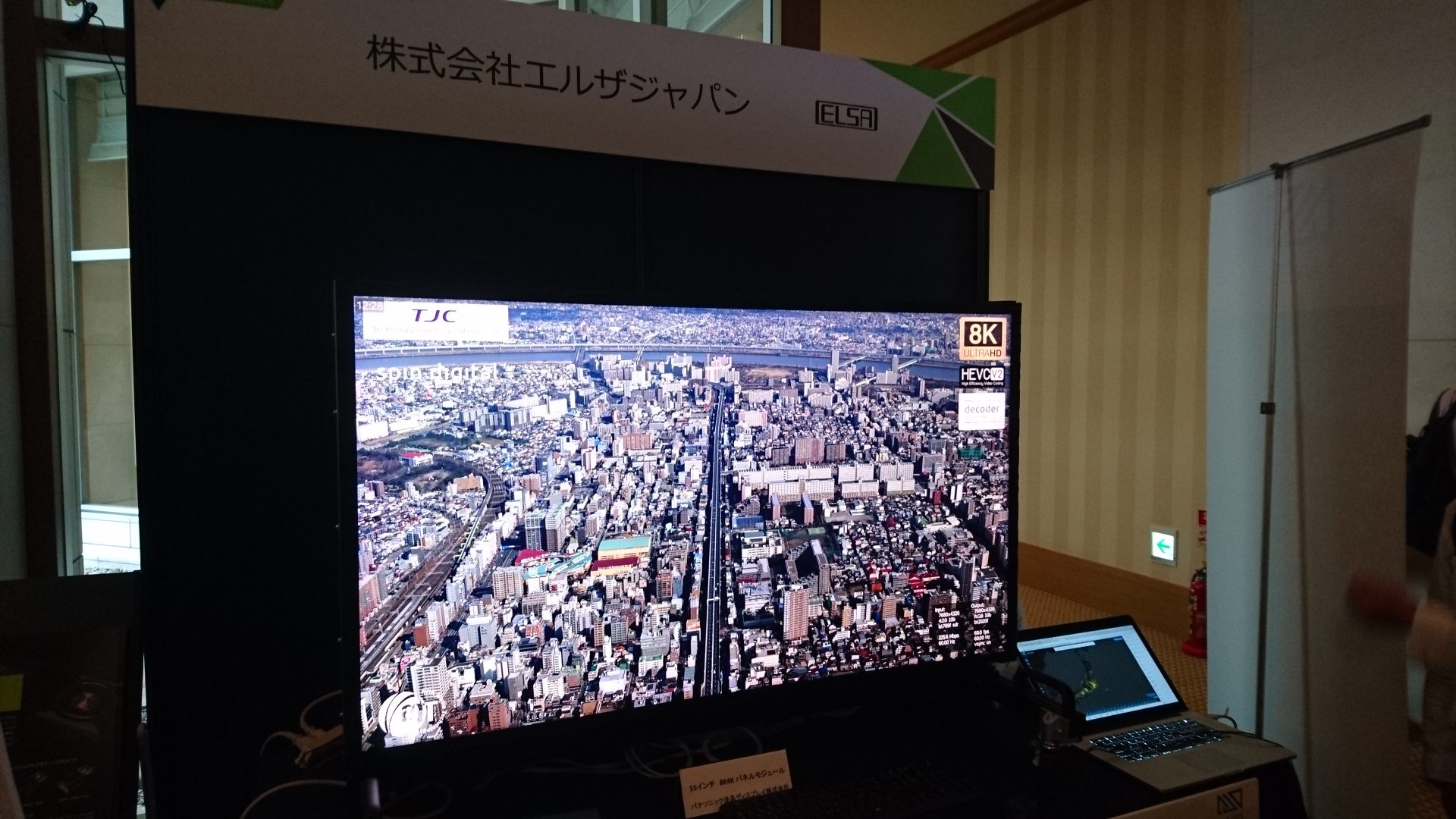 Spin Digital HEVC Media Player
Spin Digital Media Player includes a high performance HEVC/H.265 decoder and a custom DirectX12 video renderer that allows video playback at 8K resolution on standard PC platforms.
The media player supports High Dynamic Range and Wide Color Gamut. It also features professional video formats (4:2:2, 4:4:4) with up to 12-bit video. The player covers a wide range of professional, contribution, and distribution video applications.
GTC Japan
GTC Japan is being held at the Hilton Hotel Tokyo Odaiba, on Oct 5th 2016. More than 3.500 participants attend several tutorials, presentations and demonstrations related to GPU technologies. More information can be found at https://www.gputechconf.jp/
Contact
Mauricio Alvarez Mesa – CEO mauricio at spin-digital.com – spin-digital.com
Contact and sales in Japan: Taketoshi Kariya – Sales Manager tkariya at tjc.ne.jp – tjc.ne.jp/en/