Spin Digital at After NAB Show – Tokyo
Spin Digital presents a demonstration of high quality 8K video at the After NAB 2018 show in Tokyo.
Tokyo, May 23, 2018 — Spin Digital, together with TJC, will present a demonstration of 8K media playback at the AfterNAB show in Japan. The event will take place from May 23rd to May 24th at the UDX Gallery in Akihabara, Tokyo. The demonstration is presented a the TJC booth.
The After NAB Show introduces the main trends and technologies of the official NAB Show to a Japanese audience of industry professionals, journalists and general public.
High Quality 8K HEVC Media Player
The latest version of Spin Digital Media Player (Spin Player) will be used for a demonstration of 8K playback. Two different systems will be showcased: one using the Dell UP3218K 8K monitor and a compact PC, and the other one using the Sharp Aquos 8K TV with the player running on a workstation.
Spin Player uses a high-performance CPU-based HEVC decoder and a high-performance GPU video rendering engine, that together offer a high-quality and very flexible 8K playback solution with support for distribution (4:2:0) and contribution formats (4:2:2 and 4:4:4).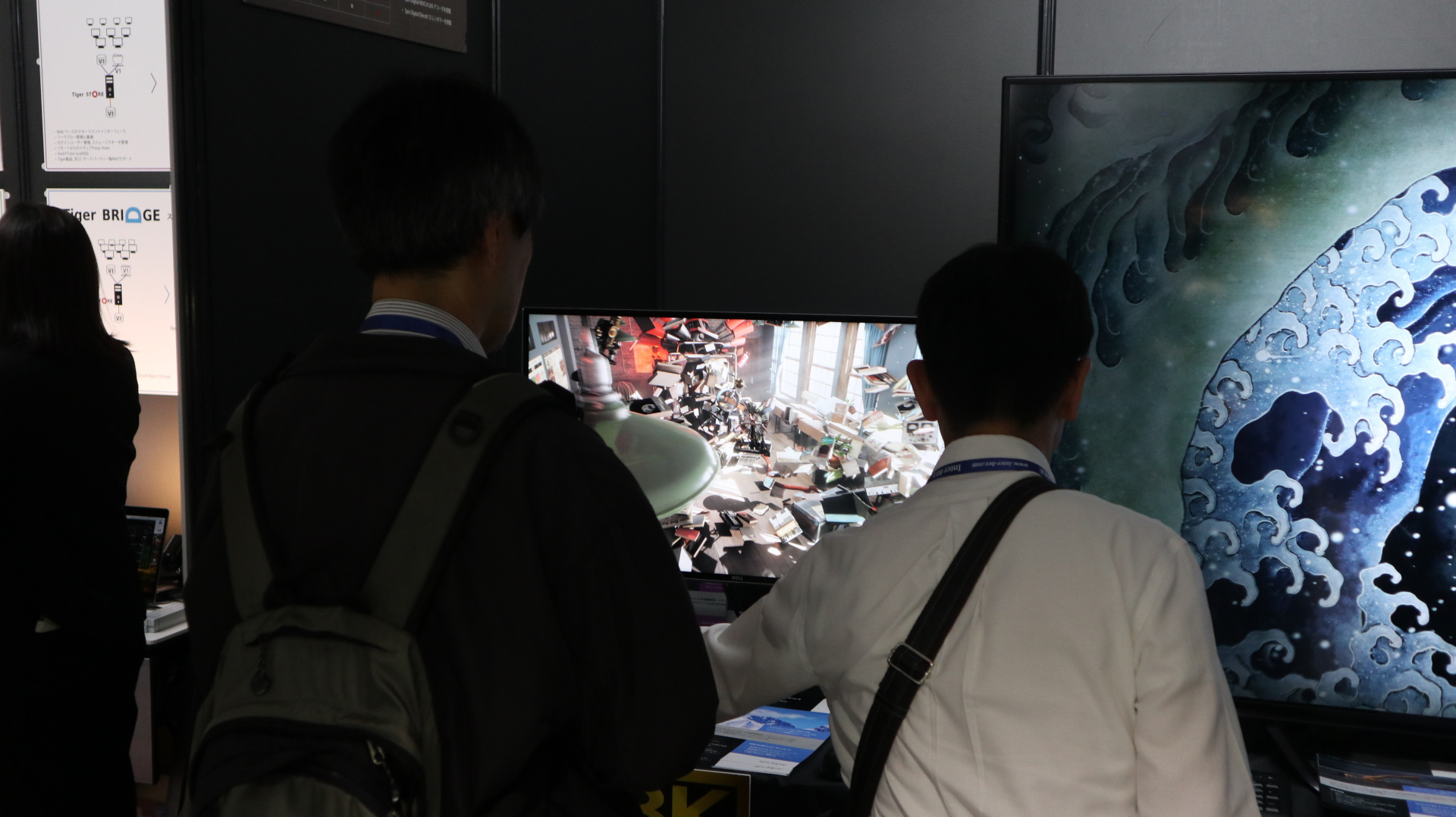 High Quality 8K HEVC Encoder and 8K Content
Several 8K videos will be used during the demonstration kindly provided Spin Digital and TJC partners: NHK Media Technologies, PSNC, and Unigine. A demo of the 8K-3D CG movie content "Angry Waves – Onami (High Wave)" and "Menami (Low Wave)" inspired by Hokusai Katsushika pictures and supported by Triviaframe artist will be shown.
All the 8K videos presented in the demonstrations have been encoded using Spin Digital's HEVC encoder (Spin Enc). The format used is 8Kp60, 4:2:2, 10-bit, at a bitrate of 120 Mbps.
Contact and meet us: Ater NAB. TJC Booth. Akihabara UDX. Tokyo.
Arrange a meeting with us to learn more about our products, see a demo of our 8K media player, or discuss how Spin Digital and TJC can help you with 8K video solutions.
Taketoshi Kariya, Executive Officer – tkariya(at)tjc.ne.jp – http://www.tjc.ne.jp/en
Mauricio Alvarez-Msa, CEO – mauricio(at)spin-digital.com – https://spin-digital.com
Funding
EU logoThis activity has received funding from the European Union's Horizon 2020 research and innovation programme under grant agreements No 688759 (lpgpu.org), No 732717 (www.ddd60.eu), and No 7620799 (Immersify.eu).