Spin Digital to Present 8K Real-time Encoder at InterBEE 2019 in Collaboration with Intel
Berlin/Tokyo November 13, 2019: Spin Digital Video Technologies GmbH (Spin Digital), in collaboration with Intel Corporation (Intel), announced today that they will present a new 8K live HEVC software encoder at InterBEE 2019. Onsite demonstrations will be presented from November 13 to 15, at Spin Digital Asia Pacific Inc. Hall 3 – Booth 3314, at the Makuhari Messe in Tokyo.
The new encoder produces quality and compression levels comparable to best-in-class offline encoders while, at the same time, providing the performance required for processing 8K at 60 frames per second in real-time.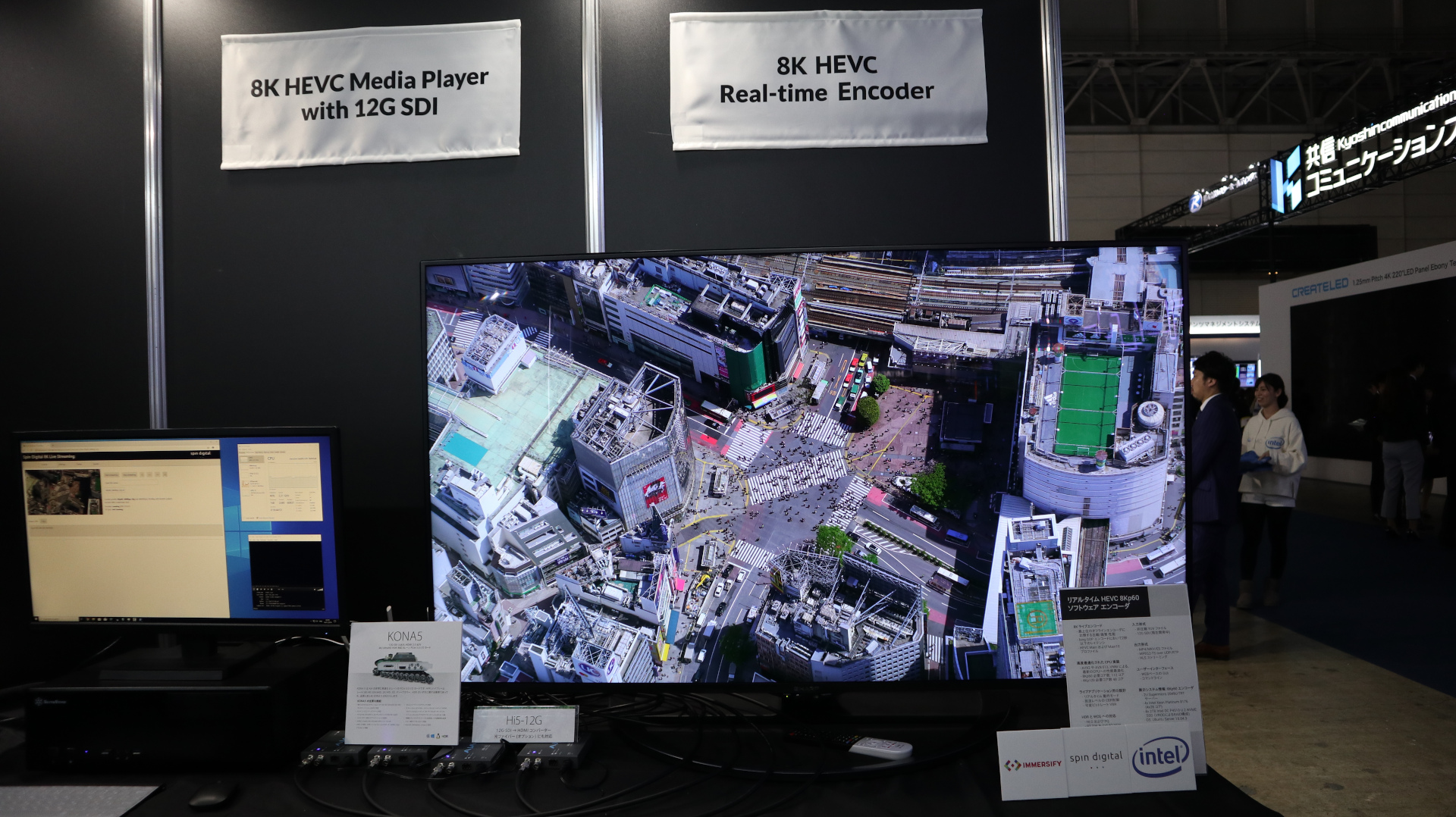 8Kp60 HEVC real-time encoder for broadcast and broadband
The encoder is addressed to the next generation of 8K applications that demand broadcast-grade quality, very high compression efficiency, and compliance with broadcast CBR rate control standards. In addition, it provides support for 8K live streaming over the Internet, using an advanced VBR rate control algorithm aligned to live streaming guidelines.
The new real-time encoder provides a quality and compression performance comparable to Spin Enc, the offline encoder developed by Spin Digital that is widely known for its high-quality and high-compression capacity. Initial analysis performed by Spin Digital shows that the new HEVC encoder is able to reduce the bitrate up to 41% compared to the x265 encoder, in ultrafast mode, at the same quality and at 4 times higher encoding speed.
Software encoder optimized for Intel Xeon Scalable CPUs
The new encoder is based on a flexible software solution that relies on advanced decision algorithms, a modern encoder architecture, and a highly optimized implementation. The encoder is able to process 8Kp60 HEVC video in real-time using a CPU-only system. It has been extensively optimized for Intel Xeon Scalable processors in order to achieve an unparalleled level of performance, including: SIMD processing using Intel's AVX-512 instructions, and advanced multithreading for systems that include hundreds of CPU cores.
We believe that is possible to reach a very high quality of 8K video at a reasonably low bitrate, making 8K live applications more affordable with current networks. Said Mauricio Alvarez-Mesa, CEO of Spin Digital.
Live 8K demo at InterBEE
At InterBEE Spin Digital will be presenting a live demonstration. The 8Kp60 real-time encoder will be running on a server that includes 4x Intel Xeon Platinum 8176 CPUs (4×28 cores). Uncompressed content in 8Kp60 4:2:0 10-bit format is read from a disk array composed of 4x 2TB Intel DC P4510 U.2 NVME SSDs disks using Intel Virtual RAID on CPU (VROC). The server is running Ubuntu Linux Server 18.04.3.
The HEVC encoded output at 60 Mbit/s is then streamed using RTP through a local network to a client PC running Spin Digital HEVC decoder solution Spin Player. The decode content will be played on an 8K TV with 4x HDMI 2.0 inputs.
Contact and Meet us – Booth 3314
Arrange a meeting with us to learn more about our products, see a demo of the HEVC 8Kp60 real-time encoder, and discuss how Spin Digital can help you to enable 8K video solutions using HEVC software video codecs.
Mauricio Alvarez Mesa, CEO, Spin Digital. Germany – mauricio(at)spin-digital.com
Taketoshi Kariya, Director, Spin Digital APAC. Japan – tkariya(at)spin-digital-ap.com
Funding
This activity has received funding from the European Union's Horizon 2020 research and innovation programme under grant agreement No 762079 (www.immersify.eu).
Trademarks
Intel, the Intel logo and Xeon are trademarks of Intel Corporation in the United States and/or other countries.