Spin Digital at InterBEE 2017 – Tokyo
Spin Digital Video Technologies GmbH will participate at InterBEE 2017 from November 15-17 at the Makuhari Messe in Tokyo, at the booth 8105.
Berlin, November 3, 2017 — Spin Digital, together with Technology Joint Corporation (TJC), is going to present demonstrations of the new versions of its HEVC solutions including: 8K media player, SDK, and encoder.
HEVC Software Codec and Media Player for 8K Ultra High-Quality Video
Spin Digital Media Player enables real-time HEVC/H.265 decoding and playback of ultra-high 8K quality video on PC-based systems. The media player is ready for the next generation of high quality video, providing support for HDR, High Frame Rate up to 120 fps, and Wide Color Gamut (BT.2020).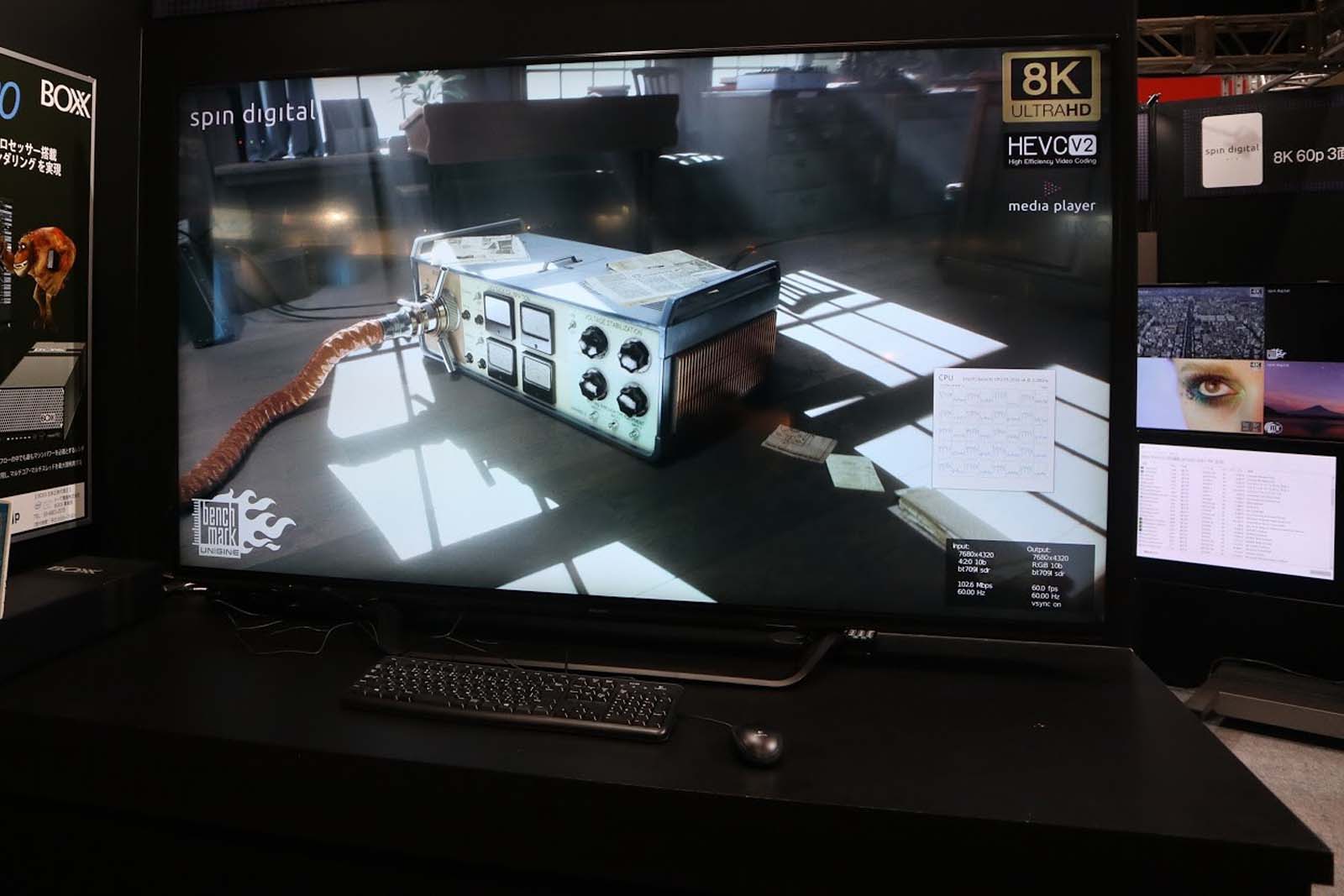 Higher Performance with New Optimizations
A new version of the HEVC decoder and media player has been optimized for the newest Intel Skylake processors reaching even higher performance. 8K with 120 fps is possible now in a single socket system, and 8Kp60 is possible in compact desktop systems. Applications requiring even higher performance such as multi-8K decoders, or resolutions beyond 8K (12K, 16K) for videowalls and VR are also possible.
Next Generation Video Rendering
A new version of Spin Digital video rendering engine allows flexible display configurations. New video rendering modes facilitate versatile screen and playback layouts using multiple GPUs or SDI devices.
Cloud encoding and streaming
Spin Digital encoder and media player have been tested in cloud environments for efficient transcoding using cloud computing instances, and streaming from the cloud using HLS.
Contact and Meet us: Booth 8.105
Arrange a meeting with us to learn more about our products, see a demo of our 8K media player, or discuss how Spin Digital can help you with the transition to 8K video with HEVC software video codecs.
Mauricio Alvarez Mesa, CEO – mauricio(at)spin-digital.com – spin-digital.com
Contact and sales in Japan: Taketoshi Kariya, Executive Officer – tkariya(at)tjc.ne.jp – http://www.tjc.ne.jp/en
Funding
This activity has received funding from the European Union's Horizon 2020 research and innovation programme under grant agreement No 688759 (lpgpu.org) and No 732717 (www.ddd60.eu).